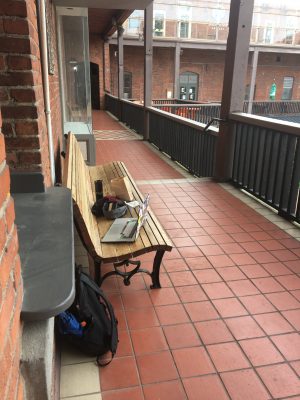 After grabbing a pizzolo from Mosi across the street, I came over onto the 2nd floor balcony of Market Square to work.
This bench is under overhead cover, so provides cover from the rain, and some glare. It is still pretty bright in this location, but at full-screen brightness I'm working in a focused fashion. At the cost of some battery though.
There is #TELUS wifi in this location, and I've got at least 2 bars. An OOKLA speedtest shows me 9.26 Mbps Down, and only 2.84 Mbps Up, so likely a little choked for Zoom, but this afternoon I have no meetings!
Plenty of coffee and snack solutions are nearby, but what about bathroom access? Hmmm, not yet sure if the business owners in the Square allow customer-access to the loo, but I am packing my building pass, so can easily hop up Pandora Street if needed.
Related posts