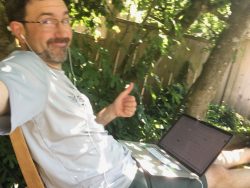 Here we are on one of the hottest days of the year in YYJ, and I took up an invite from a Workmate to stop by his front-yard for a working sesh. Not one to miss a chance to try out a new remote WAFO space, I biked over!
This front yard must be among the finest remote office spaces around! I took up a comfy patio seat underneath a lush fig tree, and was able to put my feet up on yonder tree branch to make a very effective lap-desk for the laptop! The WIFIs were plenty strong enough for a Zoom call, which is what you need when you're in a virtual-team setting with everyone going WAFO, one way or the other!
As a guest, I was able to enjoy a cool beverage, and use the in-house facilities as needed! I eventually had to break out a battery pack to power through the end of the sesh, but all in all, a very unique WAFO time under the Summer 2021 #YYJ heat-dome!
Related posts