seasonal fermentation project
coreman, 3 years ago
1
2 min

read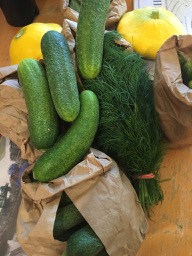 Was at the James Bay Market last weekend and noticed some great looking pickling cucumbers available at the Saanich Organics booth. I've never done a cucumber fermentation project, but I know people that have, and it doesn't sounds all that difficult!
I decided to take a first crack at this project, so picked up some more pickling cukes while at the JB Market this morning, and headed home to begin the adventure.
We had all the supplies and ingredients on hand at home, which included:
mason jars / lids
coarse Kosher salt
clean water
local garlic
local dillweed
carrots / tea bags
We also had a copy of The Art of Fermentation, by Sandor Ellix Katz on the kitchen bookshelf, a great reference to learn about fermenting all sorts of things!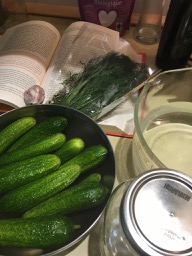 Justine and Robin got pretty stoked about the cuke action so pitched in to clean the jars, peel the garlic, and surface fermenting advice from our reference material!
Justine had past experience with making yogurt at home, so learned to clean the jars by baking them in the oven for a short time.
Robin has experience with fermenting kombucha, kimchi, cucumbers, etc. so had the wise eyes to help the newbs in the kitchen today! She surfaced a tip from the book about keeping your cukes crisp while under fermentation by adding grape leaves, oak leaves, a carrot, or a tea bag. We decided to include carrot slices in all the jars, and a tea bag in another.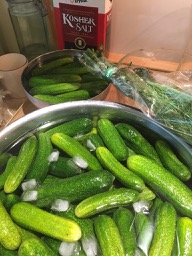 I prepped for the fermentation by:
gently scrubbing the cukes
soaking them in an ice-water bath
prepping a 5% brine by mixing 3 tbsp. coarse salt in with 1 litre water. We needed just over 2 litres for the 58 cukes that we had to ferment today
rinsing the dillweed, and peeling the bulbs of garlic
After the jars were clean, we stuffed them with 5-8 cukes, a few bulbs of garlic, some dillweed sprigs, and a carrot stick. Topped with the brine, and then put the lids on, not too tight. Apparently we'll be releasing the buildup of CO2 gas over the next little while, as we observe the fermentation activity unfold.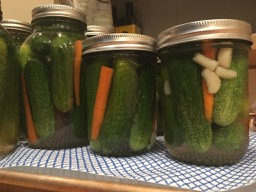 We ended up getting 9 Mason jars loaded with our cucumbers. Let the fermentation begin!
Related posts