to Italy and back
coreman, 12 years ago
3
2 min

read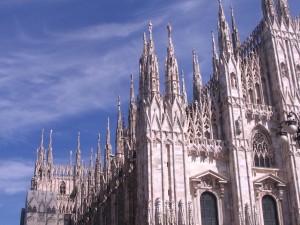 Thanks to the gang at radioparadise.com, I recently made a trip to Italy, and have made it back to Victoria safe and sound.
I'm a believer in listener-supported radio, so I support radioparadise, monthly. With a small electronic cash transfer, from my vault to theirs. That helps them pay the bills, and provide a top-tier Internet streaming radio experience.
Among the many cool things about the station is that they hold prize draws for their supporting listeners. And they have awesome prizes, like the AUX Box speaker system. In the April/2011 monthly prize draw, I won the AUX speakers.  The extra-special value-add to the prize was the trip to Northern Italy to go and pick up the speakers!
I'm just now getting the media offloaded from the various devices, and have now got a few pics to share, like the one here of the Milan Cathedral.
I've never been to Europe before, so going to Italy was quite an amazing experience.  I'll try to get some more pics up here, to share a bit of the adventure.
My relationship with radio goes back a ways.  I 'd say I've been plugged into radio for most of my life, having grown up on AM-talk radio with Mom.  And FM-rock radio with Dad.  Radio has always been around, in the background, or the foreground.  In the house, in the car, and at work.  I've got lots of really great radio-listening experiences that I remember, because they made me feel something.  And I did a bit of radio in the 90s, the Perpetual Motion radio show – on CFUV.  1 solid hour of techno, trance, ambient, and house.  With live, spinning vinyl.  We were right after  the reggae show, and before the rappers came in to take charge.  These days I do Internet streaming radio all the time.  I've got my favourite stations, and I support 3 of them with cash donations.
So I'm over in Italy reflecting on how the trip all came together.  Quite a huge win, I must admit.  I decided that I've always been on the lookout for unique radio experiences.  Experiences that are vivid, and that really capture you.  radioparadise.com is more than just a unique listening experience…
Related posts